Postsurgical and burn scars are one of the main problems that doctors have to face having to manage both aesthetic and functional aspects
Scars: aesthetic
and functional
improvement
Fields of application:
Hypotrophic and hypertrophic scars, keloids and burn scars.
Work program:
From 6 to 12 weekly treatment sessions.
Benefici:
Filling of hypotrophic scars*.
Retraction and flattening of hypertrophic scars*.
Retraction of keloids*.
Reductions in fibrosis induced by scars*.
Reduction of skin discoloration*.
* Nicoletti G, Perugini P, Bellino S, Capra P, Malovini A, Jaber O, Tresoldi M, Faga A. – Cattedra di Chirurgia Plastica e Ricostruttiva dell'Università Pavia. Scar Remodeling with the Association of Monopolar Capacitive Radiofrequency, Electric Stimulation, and Negative Pressure. Photomedicine and Laser Surgery Volume XX, Number XX, 2016 M. A. Liebert, Inc. Pp. 1–13
Even the scars are restructured
In the double image scanned at T0, the healthy tissue placed at 3 centimeters away from the scar seen on the left, while in the image on the right there is the emptying and deconstruction of the scar resulting from an appendectomy.
At the end of the treatment, in T1, we can appreciate the structural organization of the collagen and elastic fibers of new production that recovers both thickness and the optical properties (absorption, refraction, light reflection) of the healthy skin.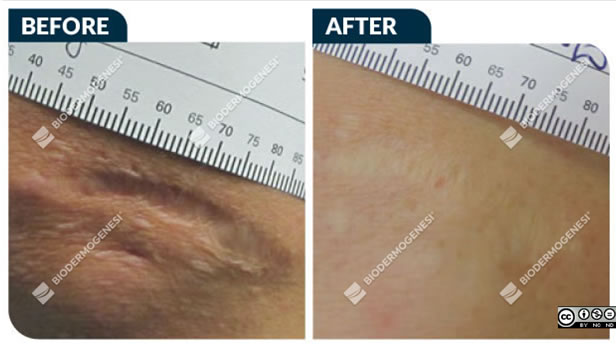 Hypotrophic scar with irregular texture, present on the joint.
After having completed the treatments with Biodermogenesi®, the scar is more elastic and it is improved also chromatically, which makes it hardly visible.
Archive: Department of Plastic Surgery – University of Pavia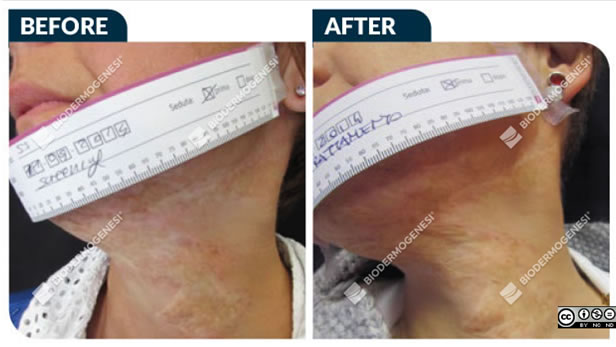 Patient with burn scar extended from the mandibular profile up to the shoulder and the breast, with retraction that determines displacement of the axis of the head with consequent reduced motility and chronic headache. After a cycle of Biodermogenesi ® sessions, we are witnessing the correct cranial axis positioning, total remission of pain and significant recovery of motility, combined with an attenuation of skin discoloration and an improved skin texture.
Archive: Department of Plastic Surgery – University of Pavia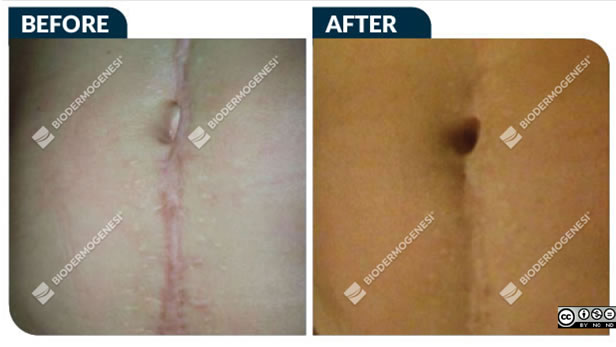 47-year-old patient with 7-year post-surgical keloid after a course of Biodermogenesi® sessions in 2 months period. The keloid is completely regressed, the linea alba is visible again.
It is pigmented with sun exposure, consequently gained a uniform color with the surrounding skin.
Archive: Dr. P. Castellacci – Milan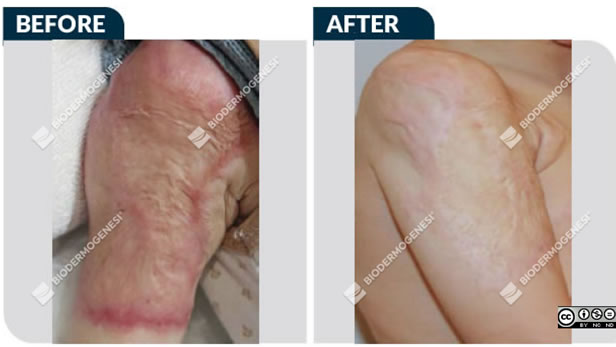 In this case an extraordinary reparative action on burn scars is clearly visible. A large burn with significant fibrosis, causing pain when straightening and rotating the arm, treated with 5 weekly sessions of DERMACARE PLUS program. The 9-yearold boy has completely recovered limb motility with pain relief.
The posthumous picture was taken 4 months after the last session, during which months we witnessed a progressive regeneration of the burned tissue and a consequent improvement both on functional and aesthetic level.
Archive: Dr. S. Saracoglu – Istanbul, Turkey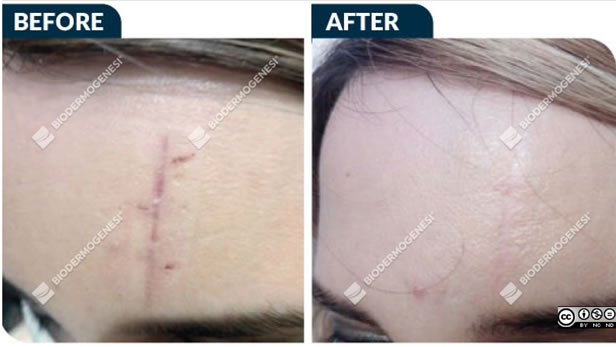 Trauma scar treated with eight Biodermogenesi® sessions.
The tissue regeneration and chromatic uniformity with the surrounding
skin are highly appreciated.
Archive: Dr. Claudio Urbani – Rome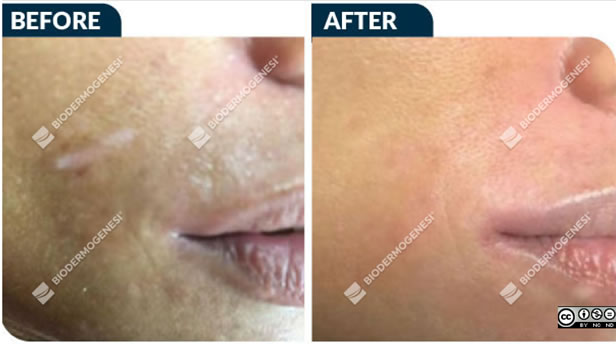 Cut scar treated with Biodermogenesi®. At the end of the sessions, it is clear the total regeneration of the scar and its tanning with sun exposure; at the same time, the quality and texture of the skin of the face are improved, highlighting a simultaneous anti-aging action.
Archive: Dr. Eliana Lanza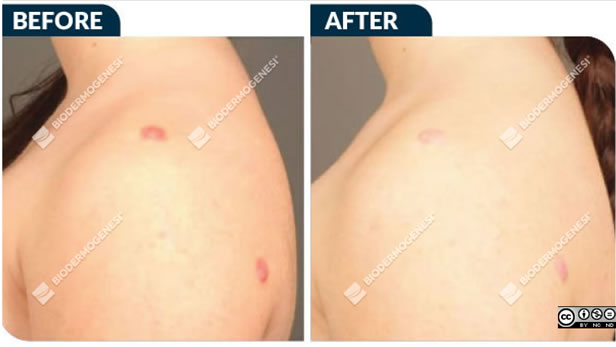 Keloids treated with Biodermogenesi®. After the therapy, keloids appear reduced in extent and color, much more similar to the surrounding healthy skin.
Archive: Dr. Ector Leal – Monterrey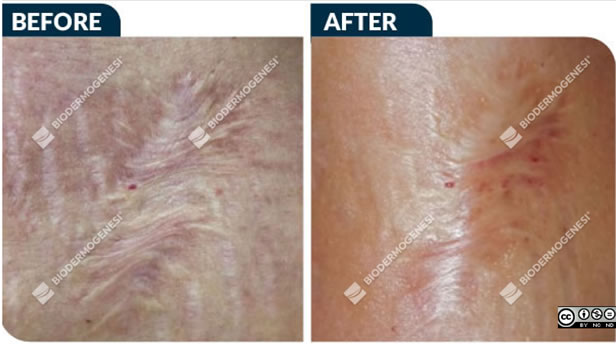 Scar over on stretch marks, treated with a cycle of Biodermogenesi® sessions. The scar, like the striae, is regenerated and tanned with regular sun exposure.
Archive: Dr. Concetta Tiralosi – Caltanissetta
Before choosing a scar treatment and then before investing in a technology, ask yourself some questions:
Which technology allows you to obtain results superior to others in regeneration of scars, evident immediately after the first session and without any invasive method?
Is there an effective technology capable of improving scars' aesthetic and functional deficits?
Which technology allows you to work at any time of the year without any down-time, by consequently eliminating recovering times?
Is there a technology that performs pleasant and relaxing treatments for your patients without side effects and easy to use for your staff?
Does this technology allow you to amortize your investment thanks to other fields of application?
Biodermogenesi® also offer you the following services:
An onsite training day at doctor's office
Online training platform with access to streaming texts and videos related to all documented field of application
Organization of Master Classes for updating customers on all new fields of application
Marketing material and services
Supply of visual merchandising to promote your business
Help in recruiting new clients
High profit from treatment